With the hoards of new shooters added to the demand for accessories it seems like every day we see new gear for them to slap on their guns. A lot of it is either useless or not necessary. My motto is everything you need, nothing you don't. All I want is a well made firearm, good ammo and a reliable sighting system. In the case of a tactical shotgun I want to be able to sling it or slide it into my scabbard so weight and size are a factor that dictates less is more.
Enter the Insight Technology IFL LED Shotgun Forend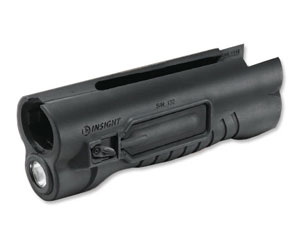 with Light. This is a good idea made great in my book. By replacing your stock forend you add a built in tactical 120 Lumen light. Sling it, slide it into your scabbard. Nothing hanging off, no added dimensional bulk. Slim, trim and ready to fight. The IFL features tried and true Insight mil spec quality with a rugged polymer body. The light operation is ambidextrous with built in pressure switches on both sides. A powerful 120 Lumen Insight LED lighting system will illuminate those dark corners and blind the bad guy at the same time.
The IFL is available for both the Mossberg 500/590 and Remington 870 platforms. The IFL is a practical, well made and dependable piece of gear highly recommended for your self defense shotgun. … J